The White House
I had the honor and the good fortune to serve as the chief calligrapher of The White House during the administrations of Bill Clinton and George W. Bush. Unfortunately, as a result of being on the front-end of the digital revolution in the calligraphy office, the digital record of my work is quite small. The volume of work created in the White House calligraphy office is staggering, and the calligraphers who are employed there serve not only as calligraphers, but also graphic artists, production artists, and custodians of White House forms of address and social etiquette. Their work plays a significant role in setting the stage for diplomacy and all White House entertaining.
White House 200th Anniversary Invitation
This is one of my favorite pieces from my time at the White House. This hand-lettered, engraved invitation was hand-inscribed in a matching gold ink and hand with the recipient's name. A translucent vellum overlay with an engraved antique image of the White House served as an overlay. A matching blue envelope with a hand-written gold name and addressed completed the package. Those who enjoy heraldry and coats of arms and such will take note of the laurel leaf wreath surrounding the Great Seal. This embellishment was used for one year only, on all social events, during the millennium year.
Menu for the President of Ireland
I created this piece while serving as engrosser for the Department of State. As a calligrapher, I could not ask for more fun than creating celtic knot work and uncials! This menu was an early foray into using designs that did not include the traditional gold engraved Great Seal centered at the top. The harp in the lower left corner is the presidential coat of arms for Ireland.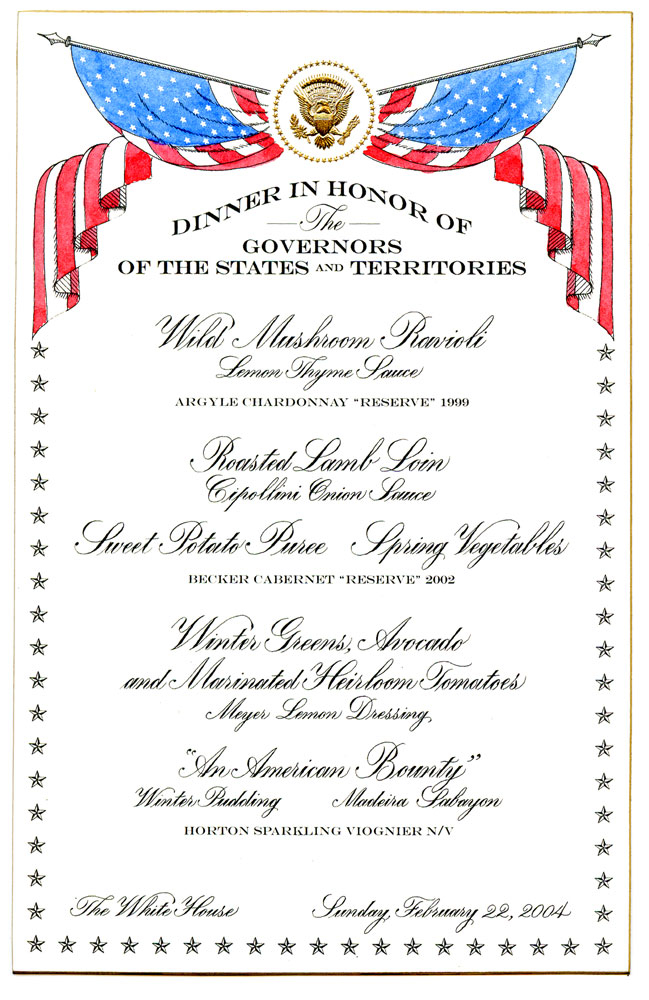 Governors Dinner Menu
Each year, in February, the governors of our states and territories gather in Washington, DC. This menu design includes hand-painted flags and 57 stars surround the border. Copperplate script and Trajan Pro typeface.
Menu for the President of Italy
Drawing from Italian design influence, this decorative page served as the cover for a fold-over menu. The eagle image at the top of the page incorporates all the elements of the Vice President's seal, in a different format.
The President's Place Card
Sure, I'll admit it: it is quite a thrill to write this place card, not just the first time, but just about every time, no matter how long one works at The White House.
Menu Cover - Millennium Dinner
Only one week after wrapping up the overwhelming Christmas events of 1999, we had to pull off the historical Millennium evening at the White House! This design was conceived and produced in under 24 hours. Fortunately, the engraved image of the White House was pre-existing. It was a big party, indeed, with the final guests departing at 5:00 the next morning.